This month  Education Services Australia's (ESA)  Language Learning Space – Indonesian  received accolades from across the Australian education community.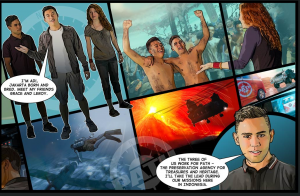 Language Learning Space – Indonesian  was announced as the Australian regional winner of the 2014 IMS Learning Impact Awards. It was chosen from a shortlist of fifteen finalists and will go on to represent Australia at the global awards in 2015.
The Language Learning Space: Indonesian was launched at the end of September 2014 .
The Language Learning Space has been custom-designed for language teachers and students (supporting Indonesian and Chinese language with Japanese to come).  Students enter an exciting world of challenges in an immersive "graphic novel" environment where they engage with media-rich resources to practice key language skills in context. The site offers opportunities for students to practice their pronunciation with Skyped lessons with tutors based in Bali and Beijing. Apps for each language complement the site.
Education Services Australia has received enthusiastic feedback for LLS from educators across Australia.
"It's THE BEST Indonesian Resource available to date! And I'd like to see anyone else top it!?"
Julie Newnham, formerly Advisor, Indonesian Language, Department of Education and Early Childhood Development, Victoria.
"Thank-you so much.  I have just started exploring the eBook & following some links.  Love the link to a movie about everyday life in Indonesia.  It is a ripper that I will use."
Sue Foley, Mission Beach State School
"Dear people at Language Learning Space, Congratulations!!!! Just wanted to take time to thank you for possibly one of the best resource sites for students and teachers of Indonesian languages EVER!! Over the past few days I have been discovering all the hidden treasures as they reveal themselves as I play with the interactivity on this wonderful site. I am very excited at the prospect of engaging students with all the wonderful resources at our disposal."
Kerry O'Connor, Senior Teacher, MLTAQ Indonesian Network Convenor 
"Congratulations on the LLS for Indonesian! It's amazing!"
Dr Anne Spencer, Languages Consultant, Catholic Education SA
See for yourself and visit www.lls.edu.au  A Scootle login is required.